2021 Real Estate – what we know and think
Now that we are through the infamous year of 2020, it is time to look ahead to 2021 and prognosticate the future based upon our best-informed thoughts and research.
What we learned in 2020 –
Once again, the real estate market has proven itself to be one of the most important segments and drivers of the economy, especially during difficult times. When the pandemic restrictions, protesting and elections began to weigh heavily on the minds of the public, many felt that a housing and real estate implosion was imminent.
While it's true that some sectors have softened (retail, restaurant and office as examples), most of the residential housing market saw record-breaking metrics. While conditions were extreme and unique in 2020, we can also look back to see that real estate has historically thrived and even prospered both during and after previous pandemics.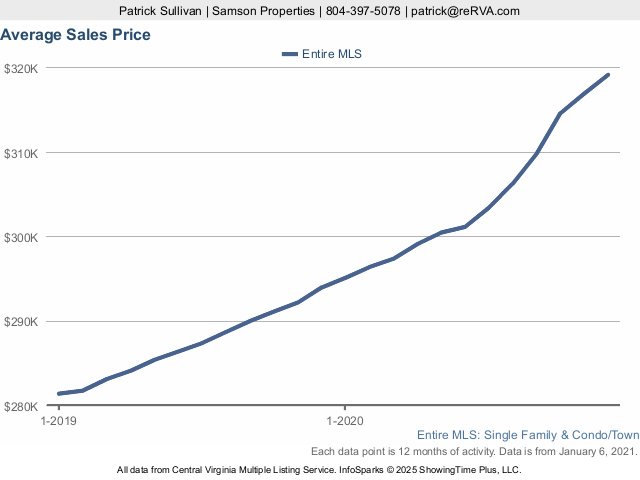 Another interesting component of the 2020 real estate market was the huge surge of younger first-time home buyers. While many have been predicting that this "younger generation" was not interested in the age-old concept of owning property and settling down, it has been my personal theory and that of others as well, that the 2008 collapse left a generation without the opportunity to buy early. They've been scarred with a negative viewpoint of the housing market, witnessing their parents and the world "lose money" on real estate as the bubble burst and property values declined. This group is now out in full force and is driving the real estate market.
We don't have 2020's official numbers yet, but our boots on the ground intel tells us that Millennials and even Gen Zers will have made up an even greater percentage of homebuyers in 2020.
What we should expect in 2021 –
Hold on to your hats as the 2021 Richmond real estate market is setting up to be off the charts!
Why? While there are many reasons we could discuss, for the sake of brevity I will just mention two:
1- We are attracting new businesses and a young professional working class.
Not only is Richmond a relatively young city with approximately 34% of our population between the ages of 18-34 who are leading the charge of first time home buyers, we are also attracting new organic job growth and have become a relocation hotspot for younger professionals with our high quality of life for a dynamic city on the East Coast.
2- Working from home is not going away.
While the pandemic has forced many to temporarily work from home for the time being, studies show that 34.4% of the workforce is expected to be permanently working from home starting in 2021. Being able to work remotely is allowing individuals and families to move from more expensive housing markets to mid-tier cities such as Richmond that provide world-class life experiences without the exorbitant house pricing or overcrowding (RVA housing is approximately 64% cheaper than NY!)
We are severely lacking enough housing to meet the tremendous demand of this largest-ever generation of prospective buyers. Add in the influx of buyers flocking to RVA from DC and Northern VA, as well as from the Northeast and other more expensive regions and the evergreen concept of supply vs demand will continue to push prices higher this year and into the near future.
In many ways, this is reminiscent to me of the housing demand and conditions during the 1920s after the Spanish Influenza and WWI, as well as the late 1940's and 50's after WWII. Despite debt incurred and difficult conditions, the economy surged in the aftermath with a tremendous increase in homebuilding. I believe that history may repeat itself with a roaring 20's-style economic surge in general, and this seems especially probable in Richmond given its fundamental position in the marketplace.
Please reach out to continue the discussion as I have a litany of information that I've been reviewing to anticipate this year's market. I look forward to hearing your thoughts and questions via text, email, or we can connect over a beverage.
As always, we appreciate your continued trust in our expertise as your local real estate experts!